By clicking on your name on the top right corner, you have access to your "Cart" to see the Projects still being created.
You have access to your "Dashboard", it is possible to "Create a new Project", you can check whether you have a "New message" from photALL and you can "Logout":


In your "Dashboard" the first page is your "PROFILE". We recommend that you update your information at your convenience. This will allow us to create your invoices with the right address and better arrange delivery service if we know your time zone.
On the left side, you have access to all the functions. On the bottom of the page, there is the history of your "Free Trials":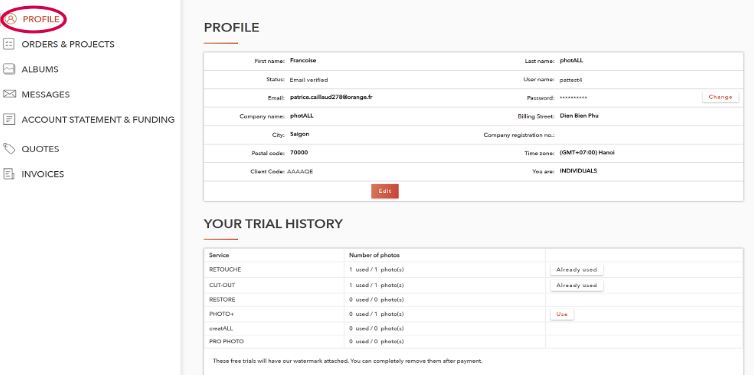 - in "ORDERS & PROJECTS": you have access to the history of your Projects. You can also create a new Project:

  - in "ALBUMS": you can upload all your photos when you have time, you can drag and drop folders and subfolders. When you want to create a Project, you can use photos from your ALBUMS. It is faster than to upload them from your PC. 
Note that we keep your photos only 30 days.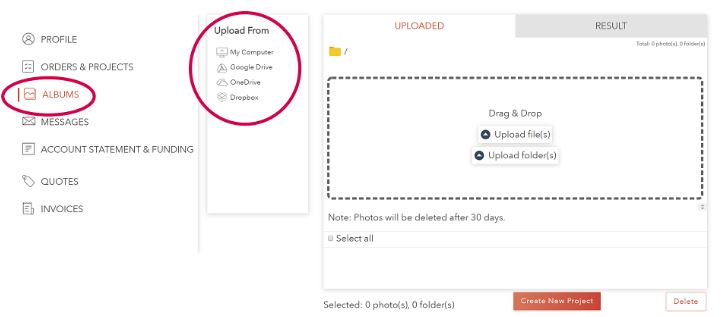 - in "MESSAGES": you can contact us by clicking on "New Message", you can also see the history of all your messages: 


We recommend you attach a file to your message.
  - in "ACCOUNT STATEMENT & FUNDING": you have access to your transaction history.  
You can also credit your account by clicking on "Top up" and benefit from discounts: 


  - in "QUOTES": you can request a Quote. We will reply as soon as we receive your request.  We will get back to you as soon as possible. You can then use it as soon as payment is received:

You do not have to use it all in one time. For example, if you have a quote for 1000 photos, you can create 10 Projects of 100 photos.
  - in "INVOICES": you will find all the invoices for each payment. You can download each one by clicking on "Detail" then on "Download":

* Do not hesitate to contact us through our online chat or send email to eve@photall.com for any question or problem.